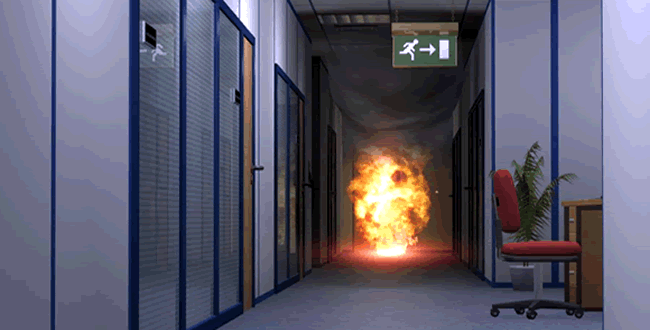 Fire Risk Assessments in Birmingham
If your organisation employs five or more people, your premises are licensed or an alterations notice is in force, it is necessary to carry out a fire risk assessment and implement and maintain a fire management plan to comply with current legislation.

On all commercial premises there must be a "responsible person", who must carry out the provisions of fire safety regulations. In almost all cases, this is the employer and/or owner of the workplace or premises. Anybody who has any degree of control over the premises or a part of the premises can be designated a "responsible person".

The responsible person must make sufficient assessment of the risks posed to all people on the premises. This should identify potential sources of ignition (e.g. heaters, naked flames etc.), sources of fuel (e.g. display material, paper and fabric, stocked products, waste etc.), sources of oxygen (e.g. compressed gases, natural ventilation, forced air circulation etc.) It should identify the people at risk (e.g. those working near to fire hazards, those working alone or in isolated areas, children, parents, elderly, infirm and disabled people etc.)



Need a Fire Risk Assessor in Birmingham?
If your premises or business activities are complex, you may not feel confident in fully assessing the risks involved. Many businesses are unable to commit the time and effort required to complete a fire risk assessment properly. This is where Fire Protection Services Birmingham can help. We offer professional fire risk assessments at affordable prices throughout the Birmingham.

If you feel competent to carry out your own Fire Risk Assessment it is important to do in a systematic and practical way. Our Fire Risk Assessment template will help you to do that and improve fire safety for your business. Suitable for all business types large or small.

As an independent business you can be assured of a reliable service at fixed prices with no hidden extras! For more info and a no obligation fire risk assessment or quotation for sales or servicing of fire extinguishers call Rick Ryan on 0121 809 3430 or contact us online.


What Areas of Birmingham Do We Cover?
Fire Protection Services Birmingham supply and service fire extinguishers in Midlands including Adel, Arthington, Alwoodley, Addingham, Boston Spa, Bramhope, Burley in Wharfedale, Ben Rhydding, Baildon, Chapel Allerton, Cookridge, Collingham, Farnley, Guiseley, Headingley, Horsforth, Huby, Harrogate, Harewood, Ilkley, Kirkstall, Birmingham, Meanwood, Menston, Moortown, Oakwood, Otley, Pool in Wharfedale, Rawdon, Roundhay, Skipton, Silsden, Shipley, Weetwood, West Park, Wetherby, Yeadon.


Our purpose is to ensure your business is safe and you comply with the legal obligations of the Fire Safety Order
We offer a bespoke product to small and medium sized businesses

Our Fire Risk Assessments include:

Initial meeting with Responsible Person
Complete survey of your premises including Risk Classification, Identifying Hazards, Escape routes, Alarm/Detection/Lighting, Fire Fighting Equipment, Evacuation, Records
Provide you with a fully comprehensive written report
Help and advice with any areas of concern
We offer a complete Fire Protection Package should you wish us to carry out any work for you
Retained Adviser to the Responsible Person

Fire Protection Services will:

Complete your assessment in full consultation with yourself at your premises
Ensure your premises have adequate fire protection
Offer competitive fees
Ensure systems are in place for the safety of your staff, clients, contractors and visitors
Provide ongoing support should you alter your premises or working systemsYou must appoint one or more competent persons, depending on the size and use of your premises, to carry out any of the preventive and protective measures required by the Order1 (you can nominate yourself for this purpose). A competent person is someone with enough training and experience or knowledge and other qualities to be able to implement these measures properly.

We can help all businesses even if the fire service have visited and issued an Enforcement or Prohibition notice. We can carry out your Fire Risk Assessment and liaise with the enforcing authority to quickly resolve all areas of concern





We guarantee our Fire Risk Assessments hence in the unlikely event the fire service is unhappy with any aspect of the assessment, we will work closely with them to resolve any differences of opinion.


All our Assessors are Fire and Rescue trained
Our aim is to form a long term business relationship with you to meet your future fire safety needs and requirements and are always available to help

Companies overlook fire safety at their peril. Not only can it endanger life, but it is an unfortunate fact that 40% of businesses do not recover from a serious fire.
It is therefore recommended that a Contingency Plan (Disaster recovery) be put together, in order to ensure a minimum of disruption to business.

The Fire Safety Order states all businesses must have a Responsible Person who has a duty of care to ensure the premises are safe for staff, clients/ customers, visitors, people with special needs and children. This person must be competent.
This is where we can help as your retained adviser to the Responsible person
Our service includes

Fire Risk Assessment
From £10.00 per month
Free telephone and e-mail advice 9am-5pm mon-fri except bank holidays
Two Free site visits annually
Free Fire Extinguisher Training for up to ten staff
Discounts off Fire Marshall Training
We recognize that your needs will differ from anyone else's and we will discuss your ongoing fire safety requirements and then provide you with a quotation.

Fire Protection Services will go that extra mile for our clients. This can be particularly important for small or new businesses with limited time, management capacity or financial resources available. Call Rick Ryan at Fire Protection Services Birmingham on 0121 809 3430 for a no obligation Fire Safety Survey or contact us online and we will call you back.

FAST FRIENDLY SERVICE FROM THE FAMILY FIRM WHO CARE